How to cook soup of chicken and fresh cabbage
Soup is an ancient and beloved dish of the Russian people. It is so familiar to all that at the mention of Russian cuisine the first thing that comes to mind is soup. In different regions of our vast country recipes soup different from each other, but the basis of this dish is the cabbage. It can be as Sega and sauerkraut.
Proponents of a healthy diet love soup, as they have low caloric content, and nutrients and many different vitamins. This dish is suitable for those people who have a lot of weight and they are trying to get better, as the soup can be eaten without fear in large numbers — it helps to lose weight without starving.
Traditionally, the soup prepared with broth of beef, but you can use pork or chicken and vegetable broth. You'll be this dish is sour taste that can be achieved by adding sauerkraut. But until there is a cabbage, it is possible to depart from tradition.
Useful properties of cabbage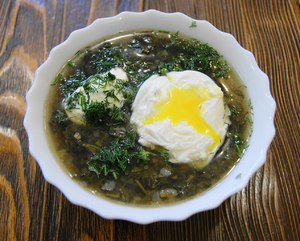 In the soup contains a lot of vitamins and they are rich in fiber. Plenty of vegetables, especially cabbage, make cabbage soup indispensable for normal digestion. The soup the calorie content is very low and so they both promote weight loss and improve digestion.
Cooking soup in meat broth increases their caloric value, but gives the human body all the essential fat-soluble vitamins and fats. Soup of sauerkraut (they have calorie content too low) help to get the right amount of vitamin C, especially in winter.
Also very useful nettle soup, especially the may or sorrel. The calorie content of such meals is very low, but it has a lot of vitamins, making it the best product for weight loss.
Soup is easily absorbed by the body, satisfy hunger and at the same time does not overload the body. Therefore, if a person wants to be in a healthy, well-fed and vigorous condition, it is very useful to eat regularly the soup.
Cooking soup from fresh cabbage with chicken
Ingredients:
water — 2.5 liters;
chicken — 500 g;
cabbage — 300 g;
onions — 100 g;
carrots — 150 g;
potatoes — 300 g;
tomatoes or tomato paste — 60 g;
Bay leaf — 2 PCs.;
vegetable oil (for pereyarki) — 5 tbsp;
salt to taste.
Cooking soup from fresh cabbage with chicken: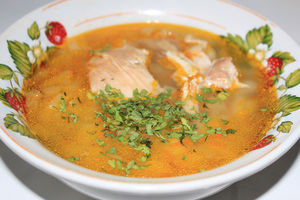 Rinse the chicken, pour cold water, put on fire, when boiling, remove the foam. Cook the chicken on medium heat for 30 minutes.
Shred fresh cabbage and slice onions, shred carrots.
In a heated pan with oil put onions, fry it until Golden brown and add the carrots. Mix everything, put chopped peeled tomatoes or tomato paste, saute on low heat for 5 minutes.
In a ready broth to put potatoes and bring to boil. Once the broth with the potatoes to boil put shredded fresh cabbage, let it boil the composition for 10 minutes.
Then add all peretarka — onions, carrots, tomatoes. All salt and cook for 15 minutes.
Before the end of cooking soup to put a Bay leaf. Bay leaf can be put in the soup when they are ready, but then they will have to stand for 10 minutes.
Calorie soup of cabbage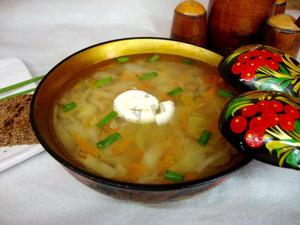 Recipe of cabbage soup in Russia has existed for centuries. To cook them have started since then, when from Byzantium (ninth century) was brought to Russia cabbage. This was originally a vegetarian dish, prepared it with mushrooms or vegetable broth. But today is very popular soup in chicken broth. Their caloric content is 55 kcal per 100 g of product, this means that in portion the dish is only 250 calories. So we can eat it peacefully without fear for their figure.
These soup is easy to prepare, and time will need, in fact, a little bit. The longest cooking the broth. Then it's simple.
The easiest way of cooking cabbage soup for eight servings:
Chicken broth (2.5 liters) should be brought to the boil, put the sliced potatoes (3 pieces).
Onion (1 piece) chopped, carrots (1 piece) grate.
Fold the onions and carrots in the heated oil (20 ml) the pan and simmer for 15 minutes.
When you're ready, then you need steamed vegetables put in a saucepan.
Then send shredded cabbage (300 grams).
When all the vegetables in the soup are almost done, add grated on a grater tomatoes (2 pieces). After just add to taste salt and pepper, garlic (2 cloves) and some herbs. After 5 minutes the dish is ready. The soup is best served with sour cream.
Soup — the most traditional Russian dish, which many people like. And every woman tries to cook them in their own recipe. Cabbage soup from fresh cabbage with chicken are not as oily, and the broth is light and delicate. This dish can make even the young mistress, it is only important to know the right recipe.
By what recipe cooked cabbage — it doesn't matter. Most importantly, remember that they need to eat constantly, as tasty and high-calorie of this dish — no.