Sauerkraut: the calorific value of 100 grams how many calories in cabbage with vegetable oil
Among a large assortment of vegetables cabbage is the most popular at our table. This all-season vegetable is used for cooking many dishes. In the winter ferment, and in this form it retains the maximum amount of its valuable nutrients. How many calories in sauerkraut 100 grams of pure and vegetable oil? We'll talk about that in the article.
Cabbage sauerkraut and its properties
It is a biennial vegetable plant grown around the world. The only exceptions are the extreme Northern regions and the desert. The vegetable enjoys great popularity and love in cooking. Juicy and flavorful vegetable has a delicate taste and can quickly saturate the body. Cabbage blends perfectly in cooking with other foods. Early varieties are used for cooking a variety of meals, and late are often used for billets, a vegetable:
For many years, sauerkraut is the most popular product in the winter and spring time. During the fermentation of sugars contained in the vegetable, the process of separation of lactic acid. This substance promotes long-term storage of vegetables.
It is recommended to use more frequently in your diet cabbage in any form. Particularly its often advised to use for those who want to lose weight. Nutritionists sauerkraut include in most diets. This is due to the fact that in addition to the useful properties it possesses low calorie. What is the calorie content this diet product how many calories in a salad with vegetable oil?
Calorie pickled vegetable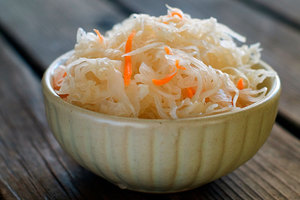 In the cold season our body is experiencing increased need in vitamins, sauerkraut is an essential source of nutrients. Considering that the energy value of the product is very low, this vegetable is indispensable in winter and spring time. Its caloric value per 100 grams is only 23 calories, including:
proteins — 1.8 g;
fats — 0.1 g;
carbohydrates — 4,7 g;
dietary fiber — 1.2 g;
water — 90,4 gr.
The ratio of PFC pickled product will look like this:
proteins — 26,2%;
fats account for 6.9%;
carbohydrates — 66,9%.
When the low caloric content of cabbage, it contains a large amount of vegetable protein. Prepared pickled vegetable in a salad with the addition of sunflower oil will have a different calorific value. If it add the sunflower oil, the calorie value per 100 grams will be 61 calories.
Fresh cabbage 100 grams, the calorific value would be 28 calories. Roast vegetable, this figure will be much higher 54-60 kcal.
Composition and use
Moderate amounts of sauerkraut is of great benefit to the body. It improves digestion as it contains high amounts of fiber. This substance has a positive effect on intestinal flora. The vegetable has a rare and useful properties, for example, improves the metabolism in the body and can eliminate the stomach pain.
A large number of vitamins contained in the vegetable and in brine. Most of all it contains vitamins A, b and C. Also, it is important vitamin K is responsible for blood clotting. Cabbage is rich in trace elements:
potassium;
phosphorus;
magnesium;
calcium;
iron;
manganese.
In addition to the above substances, it includes folic and Pantothenic acid, enzymes, biologically active substances. They are necessary for normal functioning of the body. Due to its unique properties, the vegetable helps to cure many diseases:
gives anti-ulcer effect;
has a laxative, diuretic and choleretic effect;
perfectly heals wounds and helps with stomatitis;
strengthens the walls of blood vessels, cardiac muscle, brain and helps in the fight against atherosclerosis;
enhances immunity, has a restorative and tonic properties;
has a positive effect on the skin, helps with burns;
very useful in obesity, cleans the intestines and improves the digestive process.
Application in dietetics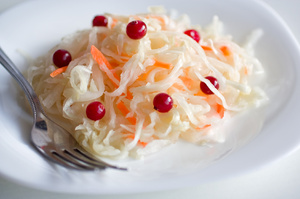 In many popular diets sauerkraut is one of the main products. Nutritionists recommend to consume the product to lose weight. However, one to eat sauerkraut would be wrong and harmful to health. This product belongs to mediations products. If consumed too much, then slow down the process of metabolism and this diet calories are deposited as fat. You must eat a balanced diet and lead a more active lifestyle to get a positive result in losing weight.
Despite the positive properties of sauerkraut it has also negative sides. It should not be consumed excessively. If you have serious bowel disease, diabetes mellitus or gallstone disease, hypertension and kidney problems, it is best to limit its use and consult with physicians.